Services
Other Services
We do more than simply sell antiques - we offer a variety of related services. For our customers, we routinely offer advice and guidance on the proper care of the pieces we sell (cleaning, waxing, proper humidity levels, etc.), and we are glad to provide complimentary assistance in placing items in your home for the best possible look. Even if you can't visit us in person, we are happy to offer advice on placement of items purchased from us based on photographs or floor plans sent to us. When the advice sought extends well beyond the pieces purchased from us, we are happy to oblige as part of our design and consultation services (see below).
Design and Consultation
We are not an interior design firm, but we do offer services in that general area when what is needed falls short of a full-service Interior Designer. We do this most frequently for customers who are moving into a new home and need help arranging their existing furniture, wall hangings and accessories in the new surroundings. The service is most frequently provided to clients who are already customers, but exceptions can be made. Rates are charged on an hourly basis. If what you need goes beyond our expertise, we will tell you so - and will be happy to recommend an Interior Design firm that we believe is most appropriate for your unique situation.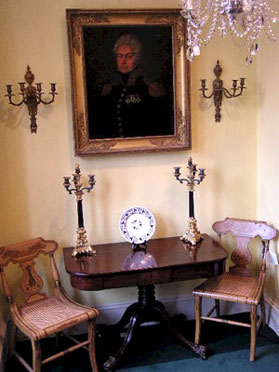 Valuation Services
We are also not appraisers. However, we do have a good knowledge of the current values (both buying price and selling price) of antiques within our market niche. We can do valuations of family pieces that are being divided among heirs, for example, and valuations of specific pieces for insurance purposes. We will do these valuations only if all interested parties (including the insurance company, if applicable) are agreeable to a valuation that was not done by a licensed appraiser.
Moving and Storage Services
Likewise, we are not a moving company. But we can and do offer the service of moving a few antiques and/or lighting fixtures for clients who don't want to entrust them to the moving company handling the rest of their household goods. We can also store such items if there is a time lag between move-out and move-in dates.
Chandelier Cleaning
There are commercial products available for cleaning crystal chandeliers, but some do lasting damage to the "guts" of the fixture. Better to have a professional clean your high-quality chandelier - a service performed frequently by our lighting department within the greater Washington-Baltimore metro area.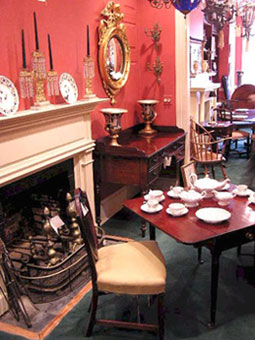 Sourcing and Contract Buying
Know what you're looking for but don't know where to find it? We undertake contracts to find and buy, on your behalf, specific pieces (usually within our market niche). Want to buy something but don't want the seller to know it's you trying to buy? We offer a confidential service for such situations, acting as your nominee to bid at auction or negotiating with a seller on your behalf.
Custom Work
Through our years in the business, we have developed a network of restorers of various types to work on our own merchandise. Sometimes we are able to offer their services to others. Most are located outside the Baltimore-Washington metro area. Their lower overhead means their prices are more competitive, and we pass on the savings to the customer. Specialties include: lighting experts (repairs, rewiring, and even design and new build of crystal as well as metal chandeliers, sconces and lamps); cabinetmakers (furniture repairs, restoration, and adaptations); gilders (gold leaf repairs and new custom framing); caners (including blind caning); art conservators (including repairs and infill painting); upholsterers; metalcrafters (repairs and new construction); cabinetry-level carpenters (for such things as furniture-quality built-ins); silversmiths; and others.