Doing Business With Us
Our Disclosure Policy
Spurgeon-Lewis Antiques is committed to full disclosure of all pertinent information about each item we sell, giving customers our best professional assessment of its origin, age, condition, and any alterations or repairs.
All our furniture is sold either "as found" or is meticulously preserved and restored by highly-skilled craftsmen in our own restoration shop or under contract. To the extent possible, we restore rather than replace old finishes, and repairs are made utilizing period construction techniques and materials. All repairs and restoration are fully disclosed.
All antiques are unique. We believe it is always best for the customer to actually see the piece before purchase, so they are fully comfortable with its condition and have made their own assessment of its quality. Purchases based solely on photos or descriptions in our ads or on this website are not subject to return unless arranged in detail and in writing in advance of the sale.
Payment Options
Spurgeon-Lewis Antiques welcomes payment by check or cash. We also accept MasterCard, VISA, American Express and Discover, including debit cards processed through one of those providers. For international purchases, the preferred payment method is wire transfer (also available for domestic purchases).
For large-dollar purchases, we offer an interest-free layaway plan, which generally involves a 25% down payment with the balance in three equal monthly installments. Other payment options can be arranged in unusual circumstances. Upon final payment, the item is available for pickup or delivery. Full terms and conditions for layaway are available on request.
We do not sell on C.O.D., whether shipping by common carrier or delivering ourselves.
Many of our items can also be purchased through third-party online services. Please be aware, however, that some of those services have policies that limit our flexibility on pricing, shipping schedules, multi-item discounts, additional services, adaptations, etc.
Shipping, Delivery, and Installation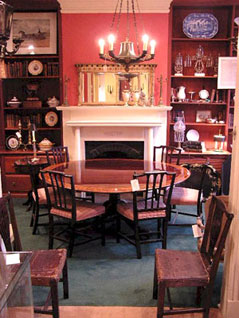 For furniture and other large items, we offer free delivery within the Washington/Baltimore metro area. Otherwise, shipping is at buyer's expense. By special arrangement, we can sometimes make deliveries ourselves outside the metro area, often faster and for a fee that is less than what a white glove common carrier would charge. We do deliveries up and down the East Coast from upper New England to Florida, with fairly frequent deliveries to the New York City area. We have done deliveries as far west as Houston and Dallas, under special circumstances. We also work with several white glove shippers and can arrange shipping on your behalf, or we will work cooperatively with any other shipper you choose. However, we assume no liability for such shipments and urge buyers to work only with a reputable mover of antiques.
Prices on lighting fixtures, including chandeliers, generally include electrification and/or any necessary re-wiring. Within the Washington, DC, metro area, price also includes installation with several caveats (attaching to existing wiring, and to existing electrical box designed to support the applicable weight of the fixture - we can tell your electrician what is needed, and only if ceiling height is 12' or less.) Shipment of lighting and other small items outside the metro area is generally by FedEx or UPS and is insured for the purchase price. Shipping cost (including insurance) and packing materials are at buyer's expense.
Storage and Unclaimed Merchandise
We sometimes have customers who purchase items before they are ready to take delivery - whether when planning a move, undergoing a renovation or building a new home, etc. We are happy to accommodate these needs to the maximum degree possible; however, we cannot provide free unlimited storage either in terms of time or available space.
The following general terms apply, unless specific other arrangements are confirmed in writing at time of purchase:
We will store purchased items for up to 3 months at no charge to the buyer.
There is a monthly storage fee of 2.5% of the purchase price (including taxes, if applicable) beyond the initial 3-month period.
Storage fees can be paid on an as-you-go basis or paid at time of eventual pickup of the merchandise, at the buyer's discretion.
If unpaid storage fees at any point exceed the total purchase price of the item, Spurgeon-Lewis Antiques reserves the right to put the item back up for sale to attempt to recoup part or all of the storage costs. (This situation would not occur until approximately 3.5 years after purchase, and even then only if no storage fees are being paid as-you-go.)
To the Trade
We work with Interior Designers and Decorators in any of the myriad ways they customarily work with clients and suppliers. Call us for details.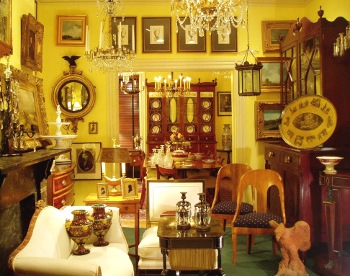 Return policy
Whether purchased in person or over the internet, all sales are considered final with no right of return. Exceptions to this policy can be made only in advance of a sale, and any such negotiated right of return will be limited to the conditions spelled out in writing at the time of purchase and the item must come back in the same condition as it went out. Spurgeon Lewis Antiques frequently accepts, on consignment for resale, items which we initially sold; however, this is not a right of the purchaser and is dealt with on a case-by-case basis.
Purchases and Consignments
Spurgeon-Lewis Antiques is only interested in high quality antiques that fit our niche within the market. We generally do not purchase items outright, but instead take items on consignment - and even then, we're very selective. Feel free to e-mail us pictures of items you wish to sell that seem to fit our market niche; if we're interested we'll get back in touch. (Hint: if it's Victorian, we're not the right shop.)
Logistics
Metered parking is generally available in our block; if not, a parking garage is located almost directly behind us, on Alfred Street near the intersection with Cameron Street.
Hours of Operation
Due to COVID-19, we are currently open only by appointment, and we are practicing social distancing (maximum of 4 people in the shop at any one time and everyone expected to wear face masks). Because we live above the shop, we are usually here and can accommodate appointments most any time. However, we prefer appointments during what were (and hopefully soon will be again) our regular business hours:
Tuesday through Friday, 12:00 noon - 5 pm.
Saturday, 11 am - 5 pm.
Closed Sundays and Mondays.
Closed major holidays - Christmas, New Years, Easter, Memorial Day, Independence Day, Labor Day and Thanksgiving.
Because we are a small shop with a small staff, there are occasions even during normal business hours when we must be closed.