Spurgeon-Lewis Antiques specializes in 18th and 19th Century furniture, period accessories, paintings, engravings, mirrors, and lighting. Come to us for neo-classical furniture, including Continental, English and American.

We are also known for our period lighting fixtures and custom-designed reproduction chandeliers, lanterns and sconces

In recent years, we have branched out from those basics, offering a variety of well-designed pieces from the early to mid 20th Century. We also work with a variety of specialty dealers to bring our customers a selection of unusual high-quality items such as quilts and linens, dolls, and early 20th-century Ethiopian furniture.
We sell antiques for people of taste, regardless of their budgets. Our inventory ranges from museum-quality pieces, through period antiques of more-affordable quality, to hand-made authentic old reproductions and even custom reproductions made in our own cabinet shop. All reproductions are fully disclosed.
We offer custom hand-made furniture and lighting featuring period designs and construction techniques. In furniture, most of these are adaptive creations, such as bathroom sink bases, entertainment cabinets, beds re-sized to modern standards, and coffee-table bases for platters, trunks and tole trays, but can also extend to custom dining and kitchen tables for hard-to-fit spaces. Custom lighting includes custom chandeliers, candelabra and sconces made from old and/or new parts.

Spurgeon-Lewis Antiques also provides consulting services in the areas of building your antique collection, arranging your furniture and paintings, and selecting colors and fabrics. We have been hired by clients to work with their architects and interior designers to help ensure that architecture and furnishings mesh with lifestyle and practical considerations.

We encourage the public to browse in the beautiful rooms of our 1890 townhouses, but we also welcome business over the internet or by phone. Most f our business is with repeat customers who have been shopping with us for years, and most of our new customers come by word-of-mouth. We do a heavy local business (Old Town Alexandria plus Georgetown and Washington, DC), but we ave clients and customers in more than 30 states and abroad.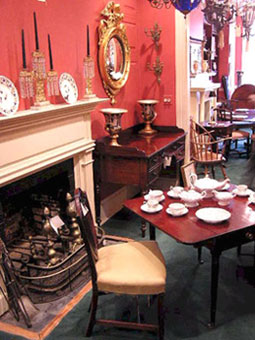 Whether you shop with us in person or over the internet, we go the extra mile to be sure the items you purchase will look beautiful and be practical in your home. For local customers, we provide installation of chandeliers, careful delivery, and proper placement of furniture, paintings and mirrors – at no extra charge. While nothing can match the personal service of local, in-store shopping, we strive to apply the same principles of care and expertise in dealing with our internet and phone customers.
Spurgeon-Lewis Antiques is located in the heart of Old Town Alexandria, Virginia, directly across the street from Christ Church (George Washington's church). We're only 5 miles from downtown Washington, DC, and 3 miles from National Airport. Our hours change seasonally; go to the "Doing Business With Us" page for current hours. Even then, hours are subject to change, so please call before making a trip from out of town. This is not only our shop, it's our home; appointments are always welcome, even outside of normal business hours.
History
Spurgeon-Lewis Antiques was founded by John Spurgeon Jenkins and Thomas Lewis Osborne in 1990, and opened its doors as a retail shop in June 1991 in Leesburg, Virginia. Shortly thereafter, Paul Bavis joined the firm. After doing business in Leesburg for 6½ years, Spurgeon-Lewis Antiques relocated to its present facility in the Old Town section of Alexandria, Virginia, in November 1997.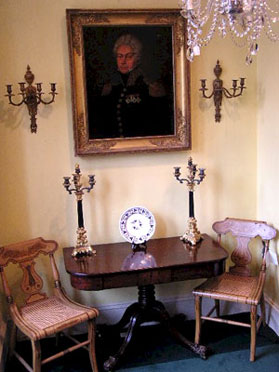 Personnel
John Jenkins is an expert on antique furniture and is also knowledgeable about paintings, porcelains, and silver, among other areas. He bought his first antique when he was six years old. By the age of twelve he was buying and selling antiques. He has formal education in interior design and has taken a number of courses on antiques, but his knowledge base extends well beyond that. He has been tutored by top dealers, museum curators, and appraisers and has assembled a reference library of some 500 books and 1,000 magazines and journals on the art, architecture, furniture, furnishings, and home decor practices of 18th and early 19th Century Americans. Prior to opening Spurgeon-Lewis Antiques, he bought antiques internationally for Macys South.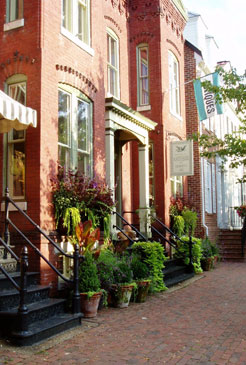 Paul Bavis is one of the leading chandelier and lighting experts on the East Coast, and also has expertise in the shop's other areas of specialization. His first exposure to chandeliers was as a 7-year-old boy through the work of John F. O'Rourke, who had done the major conversion of Charleston's chandeliers from gas to electricity. Many visits to the deceased Mr. O'Rourke's workshop led Paul to a fascination with chandeliers; he purchased his first at age 16 (on layaway). He has done consulting work and/or designed and built hundreds of chandeliers for such places as the Maryland Governor's mansion, Historic Alexandria's Lloyd Mansion, historic Rokeby in Leesburg, and private homes from coast to coast.

Tom Osborne is business manager and assists in the shop as needed.
Spurgeon-Lewis Antiques also has under contract a network of restoration experts including cabinetmakers, refinishers, gilders, art restorers, framers, and clockmakers. They work almost exclusively on our own merchandise, but are sometimes available for customer work and/or for custom hand-made reproductions.